Ableton Live Suite v10.0.2 WIN
Ableton Live Suite v10.0.2 WIN
Size – 1.4 GB
Create bolder sounds with Live's new devices. Stay in the flow with a multitude of workflow improvements. Do even more away from the computer with Push. Build your sound with a curated library. And get the unlimited potential of Max for Live, seamlessly built in.
Create with new devices
Meet Wavetable, Echo, Drum Buss and Pedal: new devices that mean colorful new sounds are possible with Live's instruments and effects.
Wavetable
Immediately playable, infinitely capable, Wavetable is a new synthesizer built by Ableton. Shape, stretch and morph sounds using wavetables derived from analog synths, and a range of other instruments and sounds. Start sculpting sounds right away—even without a deep knowledge of synthesis—or explore its rich palette and potential through an intuitive interface.
Echo
Echo brings together the sound of classic analog and digital hardware delays in a single device—your new go-to delay. Drive and shape sounds with its analog-modeled filters, turn up the noise and wobble for vintage imperfections, or add modulation and reverb to create diffuse soundscapes, wailing feedback and more.
Drum Buss
Drum Buss is a one-stop workstation for drums, capable of adding subtle character or bending and breaking drums to your will. Add warmth and distortion with drive and crunch, take control of dynamics with compression and transient shaping, dial in and tune boom and control bass decay with the dedicated low end section.
Pedal
With separate circuit-level models of overdrive, distortion and fuzz guitar pedals, Pedal brings the character of analog stomp boxes to Live. The effect goes all the way from subtle to reckless—it excels at warming up vocals and other instruments, driving synth sounds or completely smashing drums. And of course, it sounds great with guitars.
New features in Ableton Live 10.1
VST3
Live 10.1 now supports VST3 plug-ins. To activate your VST3 plug-ins, open Live's Preferences → Plug-ins. Then enable the VST3 folder. Once scanned, any available VST3 plug-ins will appear in the Browser, grouped into folders named according to the plug-in manufacturer: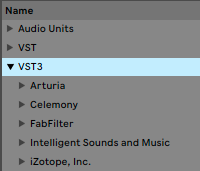 User wavetables in Wavetable (Suite only)
It's now possible to add your own custom wavetables to Wavetable using any suitable audio file. Simply drag an audio file from a folder in Live's Browser to the visualization area in Wavetable. If there are more audio files in the same folder, then you can use the left/right arrow icons in Wavetable to scroll through them. You can also drag audio files from anywhere within the Live set, or directly from Explorer(Windows)/ Finder(Mac). For full details, see our dedicated article: User Wavetables.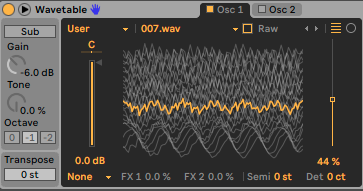 Modulation improvements
Modulation was a "hidden" feature in previous versions of Live. It's now been brought to the forefront. Toggle easily between automation and modulation envelopes using the "Aut" and "Mod" toggles in clip envelopes. Automation lines and breakpoints are colored red and modulation lines and breakpoints are light blue. See our dedicated article: Working with Automation and Modulation.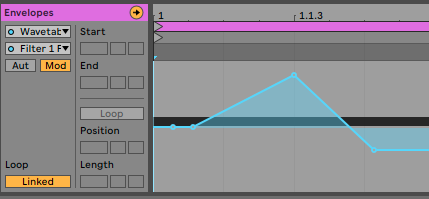 Note: When working in Arrangement view, any modulation remains a clip envelope. Automation is moved to automation lanes as per usual.
Automation and Modulation shapes
It's now possible to choose from a predefined list of automation shapes. Right click in any envelope or automation lane and insert a shape from the list:

You can highlight a section to apply the shape to the entire selection, or drag and extend a shape after adding it.
Simplify Envelopes
The overall amount of breakpoints can be reduced, using the new "Simplify Envelope" command (in the right click context menu). This makes editing recorded automation more comfortable. Curve-like movements are simplified into C- or S-shapes, whenever possible.
Before:

After:

Envelopes can be simplified across multiple clips. Just create a time selection that stretches across multiple automation lanes and trigger the command from the context menu or 'Edit' menu. Note that this will only work in Arrangement View though, not in Session view.
Note:
Simplification cannot be applied on parameters that require discrete steps, such as booleans (e.g. on/off switches) or enums (e.g. dropdown menus, radio buttons, stepped dials, etc.)
Simplification can only be applied once, i.e. you cannot simplify an envelope and then simplify it further in an additional step.
Exact breakpoint values
All breakpoints and segments now also accept values entered via the keyboard for more precision. Right click on a breakpoint, select "Edit Value" and type in the required value in the box which appears:

Arrangement zooming and navigation improvements
You can easily zoom and navigate using new keyboard shortcuts and the trackpad in Live 10.1. See our dedicated article for a full list of shortcuts: Trackpad and zooming updates in 10.1.
Arrangement overview improvements
The Arrangement Overview is now resizable
In Session View the Overview is visually aligned and the whole Arrangement is represented.
Clip detail improvements
The visualization of Arrangement clips has been improved with adjusted clip borders and refinements to the way items are colored.
The representation of MIDI clips in Arrangement is improved, in that when only a few notes exist, these are in larger size.
Channel EQ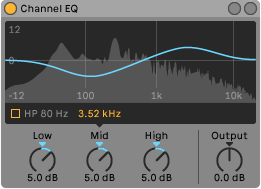 Channel EQ is a new straightforward three band EQ for mixing/sound design purposes. It uses the same technology as its bigger brother EQ Eight, but provides a much simpler control layout.
Despite its simplicity, the EQ curves and gain ranges have been fine tuned so that it is effective on a variety of audio material: the shape of the filters adapt based on how much a control is boosted or cut, thus allowing for a musical and intuitive approach to equalization.
Delay
Delay is a new audio effect which combines Simple Delay and Ping Pong Delay into one single device. As such, it preserves the old functionality, but also delivers a few improvements:
Ping Pong behavior is activated via a dedicated button.
The filter can process signal also if the timelines are not linked and if Ping Pong is not active.
Jump / Fade-In / Pitch are now possible using the mode switches, and not relegated to the context menu.
a new LFO allows you to modify time or filter frequency.

Note: Simple Delay and Ping Pong have been deprecated from the 10.1 browser. Old sets using either device will load Delay but display an upgrade button. Clicking that upgrade button changes exclusively the free time delay range. Changes in sound after pressing upgrade will only occur if free time is mapped to a macro.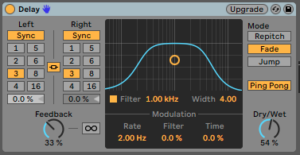 Freeze tracks with sidechains
It's now possible to freeze tracks with active sidechain routings.
Note: Tracks with their monitor set to "In" can't be frozen.
Sidechain support for plug-ins
You can sidechain VST and AU plug-ins using the new sidechain routing panel. Sidechain functionality depends on the plug-in itself: if the plug-in does not already support sidechain functionality, then the sidechain routing will have no effect. To hear the effect you'll need to enable sidechaining from an external source in your plug-in. Consult the plug-in manual for instructions. See our dedicated article: Sidechaining a third party plug-in.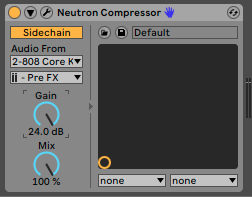 Include return and master effects when exporting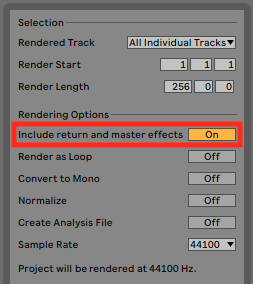 It's now possible to render individual tracks with return and master effects included. This allows you to export stems all at once, without having to solo tracks and export one at a time. See our dedicated article: Importing and exporting stems.

Tags :
Ableton
Live
Suite